NeverBounce Connect for ZOHO Recruit - User Guide
The best-in-class extension for ZOHO Recruit that will elevate your client relations to the next level.
Prerequisite for ZeroBounce Extension
NeverBounce API Key
Zoho Recruit Admin Account
Log in to your NeverBounce account: NeverBounce Login [https://app.neverbounce.com/login]
Go to "Integrate" page [https://app.neverbounce.com/apps]
Create a new or select your app.
Copy your API Key
Installing the NeverBounce Connect Extension
Navigate to Settings in ZOHO Recruit.
Marketplace  All Extensions  Search
Search for NeverBounce Connect for ZOHO Recruit.
Click "Install"
Agree to the Terms of Service
6. Select one of the following options in "Choose users/Profiles"
Install for admins only.
Install for all users.
Choose profiles.
7. Click Confirm.
8. On the next screen, Authorize NeverBounce Connect for ZOHO Recruit to access your data as required.
Configure NeverBounce Connect for ZOHO Recruit
Extension redirects to configuration once extension is installed, and Zoho OAuth connector is authorized.
Enter the API key from your NeverBounce account.
The extension introduces three fields to capture email validation status, errors, and additional information:
 
NB Email Status: Records the email's status, whether it is valid or not. Also logs any errors encountered, labeled as "ZB API Error."
NB Additional Info: Retains any supplementary details obtained as part of the NeverBounce validation results.
How to use the Never Bounce Extension
(1) Auto Email Verification
To enable automatic email verification, select the "Enable Automated Email Verification?" option within the extension settings.
Create a record with an email address or edit an existing email address in the Contacts or Candidates module.
Save the record.
NeverBounce Connect verifies email.
5. Refresh the page to ensure that the extension updates the status data accordingly.
Notes:
Never bounce for Zoho Recruit will trigger email notification to CRM user on below scenarios:
oIf API Key is identified as Incorrect.
oIf the API Key limit reached the count you asked to get notified.
Automation is valid only for records created after extension installation, to
validate the existing emails kindly use List record verification method.
Automation is enabled for import records as well.
Email validation will run only when email status is null.
API Credits & API Key errors checks are daily scheduled actions that are preset and cannot be updated
after installation.
(2) Manual Email Verification
1. The "Validate Email" button is available in List View (each row) or inside Page View (buttons menu).
2. Select the "Validate Email" button to validate the email manually.
3. A pop-up will appear showing a success message or any error messages.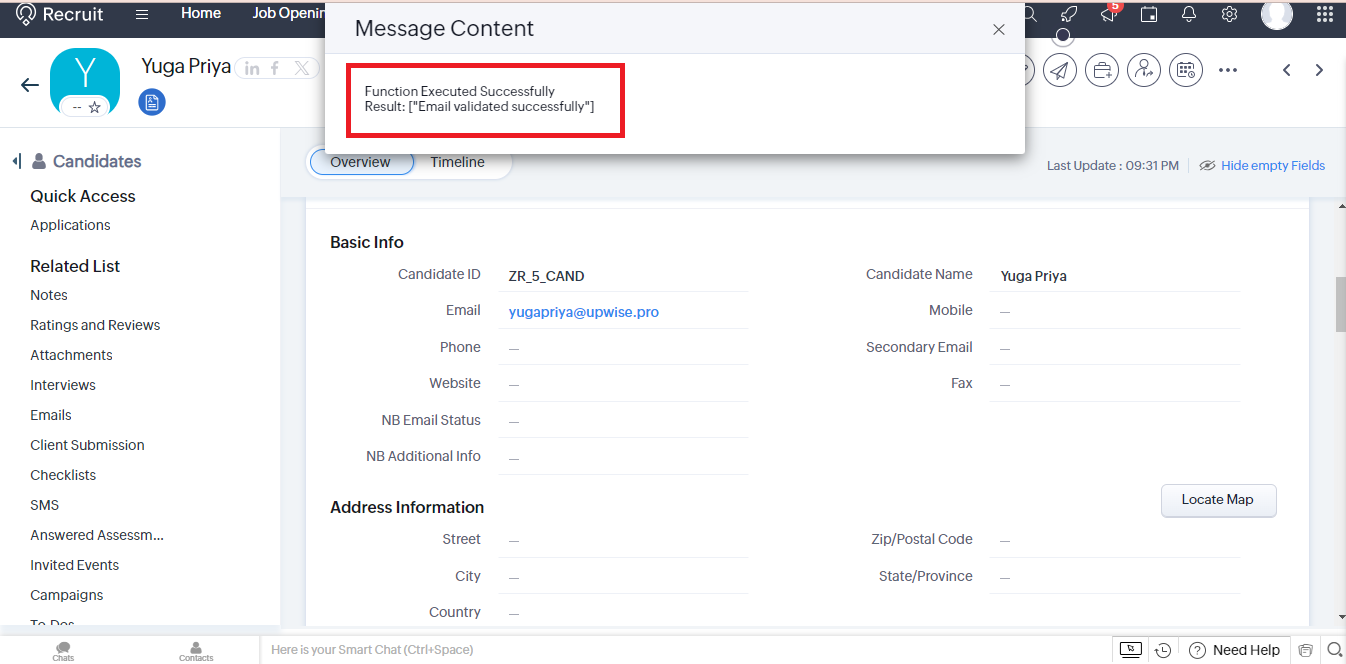 4. NeverBounce fields will be updated with validation status or any errors.
Uninstalling the extension:
1.Go to "Settings" > "Marketplace" > "All" > "Installed."
2.Under all Installed extensions, select "Never Bounce for Zoho Recruit," then select the "Uninstall" button.
3. Provide feedback or a reason for uninstalling the extension and click "Yes, proceed".